---
EN
Generally speaking, our goal is for you to be reimbursed and the funds to be deposited into your account within 3 - 5 business days of receipt of your claim (applies to online submission only). Not to toot our own horns but that's pretty darn fast when all is said and done!
There're some factors that can affect the timeline it takes for claims to be processed and reimbursed, including:
The method of claim submission - online submissions are prioritized over manual (see below)
The reimbursement method - direct deposit reimbursements are prioritized over cheque reimbursements
The complexity of the claim
The number of receipts included in a claim
The number of claims already in the processing queue at the time of submission
The time it takes for your bank to process the funds or a mailed cheque takes to get through the postal system
BUT the beauty is there are several things YOU can do to decrease processing time and fees:
Submit claims online from your online Member Centre rather than manually by email, fax, or snail mail. Online claims go straight to our Claims Team. Manual claims need to be entered and processed before adjudication and are subject to extra delays based on complexity and volume of claims submitted manually. This not only reduces processing times but also claim processing fees if applicable to the features included in your Plan. (See this Help Centre Article for more information on fees.) A bonus of online claims, it's the greener option. No emissions needed to shuttle paper through the postal service. Not sure how to enter your claim online? This handy article will help.
Don't submit multiple claims on the same day - instead combine multiple receipts into one claim by using the Add More button.

Ensure you complete all required fields with detailed information about your receipts to reduce communication delays. Heck, even add extra notes in the Notes field to ensure we have all necessary details.
When submitting an expense receipt, ensure there is one item per service date. We can't process a a lump sum payment/statement to a provider with multiple dates because they may cross over a Benefit Period.
When submitting a claim, on step 3, upload an Image of your paid expense receipt showing the service date and paid date along with detail of the expense. Doing so will help our team speed through your claim rather than having to reach out for additional information to help determine eligibility. There are times we will always ask for a receipt image. Check this Help Centre Article for more information.



Check the progress on your claim in your online Member Centre because we may ask for more information. If a receipt image is required the following will show up on your Member Centre dashboard - simply click on the Continue button to upload.



Check for messages, especially in the days following your claim submission, just in case we've contacted you for additional information in order to process your claim.
Keep your financial details up to date to ensure the deposit will be made into your current account.
If you're ever concerned about the timeline relating to your claims processing and reimbursement, just submit a support request and we'll absolutely look into it! No problemo!
---
FR
En général, notre but consiste à ce que vous vous fassiez rembourser et que les fonds soient déposés dans votre compte dans les 3 à 5 jours ouvrables suivant réception de votre reçu pour réclamation (s'applique uniquement à la soumission en ligne). Sans vouloir nous vanter, c'est vraiment rapide en fin de compte!
Certains facteurs peuvent affecter le délai de traitement et de remboursement des réclamations, notamment :
La méthode de soumission des réclamations - les demandes soumis via l'espace membre sont priorisées par rapport aux demandes manuelles.
La méthode de remboursement - les remboursements via dépôt direct sont priorisées par rapport aux remboursements par chèques.
La complexité de la réclamation.
Le nombre de reçus inclus dans une réclamation.
Le nombre de réclamations déjà en attente au moment de la soumission.
Les délais bancaire pour traiter les fonds ou le délais qu'un chèque posté peux prend pour passer par le système postal.
MAIS ce qu'il y a de bien, c'est qu'il y a plusieurs choses que VOUS pouvez faire pour réduire le temps de traitement et les frais :
Soumettez vos réclamations en ligne à partir de votre Centre des membres plutôt que manuellement par courriel, télécopieur ou courrier postal. Les réclamations en ligne sont directement transmises à notre équipe de traitement des demandes. Les réclamations manuelles doivent être traitées avant l'arbitrage et sont sujettes à des délais supplémentaires en fonction de la complexité et du volume des réclamations soumises manuellement. Cela réduit non seulement les délais de traitement, mais également les frais de traitement des réclamations, le cas échéant, pour les fonctionnalités incluses dans votre régime. (Consultez cet article du Centre d'aide pour plus de renseignements quant aux frais.) Le bonus des réclamations soumises en ligne, c'est l'option la plus verte! Aucune émission n'est nécessaire pour faire passer la paperasse par les services postal. Vous n'êtes pas sur comment soumettre votre réclamation en ligne? Cet article pratique vous aidera.

Ne soumettez pas plusieurs réclamations le même jour - au lieu de cela, combinez vos nombreux reçus en une même réclamation au moyen du bouton Ajouter un reçu.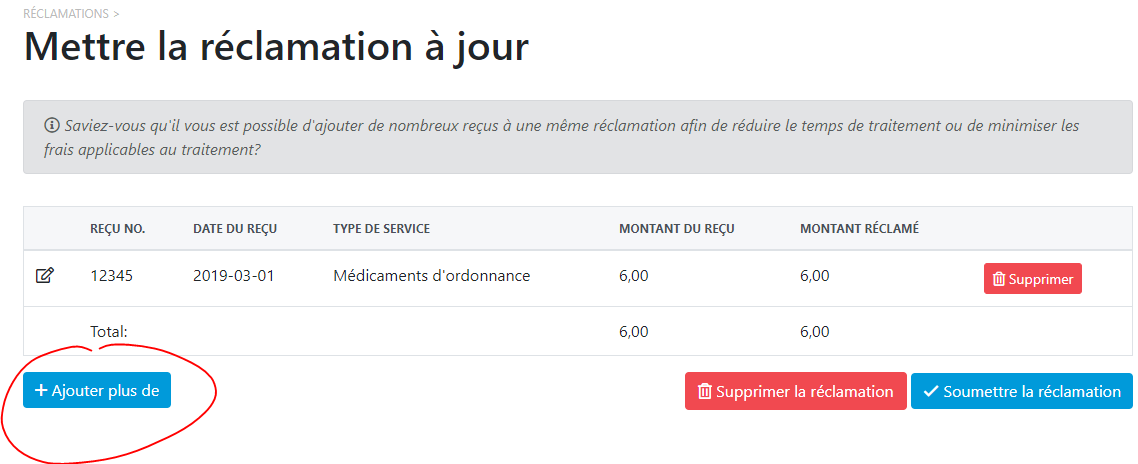 Assurez-vous de remplir tous les champs obligatoires avec des renseignements détaillés sur vos reçus pour réduire les délais de communication. Ajoutez-y même des notes supplémentaires dans le champ Notes afin de vous assurer que nous avons tous les détails nécessaires.
Si jamais vous êtes préoccupé par le calendrier relatif au traitement et au remboursement de vos réclamations, il vous suffit de soumettre une demande de soutien et nous l'examinerons certainement! Sans problème.