It's important to keep your account profile up-to-date and that includes the email address(es) you use to access your online Member Centre.
Did you know that you can access your Member Centre with multiple email addresses?
It's super important to make sure, if you don't already have one, that you add personal address on your account profile and it should be the primary address.
Managing your associated email addresses is easy peasy. See how here.
Adding login email addresses to your profile
You can add multiple email addresses to your profile. Doing so will allow you to log in to your Member Centre with any of them. We strongly encourage that at least one of them is a personal email address and that you make the personal address your primary. That's the one we'll use to reach out to you.
To add email addresses on your account, click on the drop down next to your name in your secure online Member Centre and select Account Emails.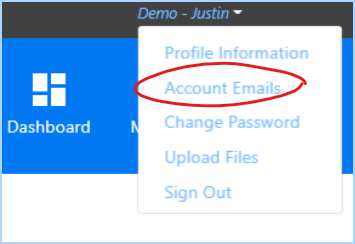 On the next screen, you'll be prompted to add an email address.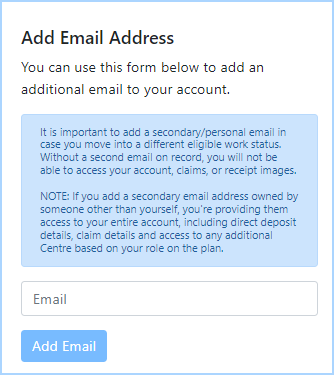 Enter your alternate email address into the box and click Add Email. Once you click that button, a verification email will be sent so we know it's really you. Click on the link provided in that message.
Change your primary email address to a personal one if using a work account
If you're using a work email address to log in to your Member Centre, we recommend that you change your primary email address to a personal one in case your work situation changes and you no longer have access to your work email address.
Your online access continues even if you are deactivated from the plan. Some Health Spending Account types allow you to continue to use funds contributed to your account for a period of time for eligible claims. If your work email address is no longer available, you won't be able to submit new claims and/or review status of existing claims.
We won't be able to communicate with you via email if we need more information about an outstanding claim or inform you about something important, because we will reach out to your primary address.
Even if you no longer need to make claims you may want to access claim reports or received images etc on existing claims.
Managing e-mail addresses on your profile
To change a primary email address or to remove an old one, view the addresses that are associated with your account profile on the same page.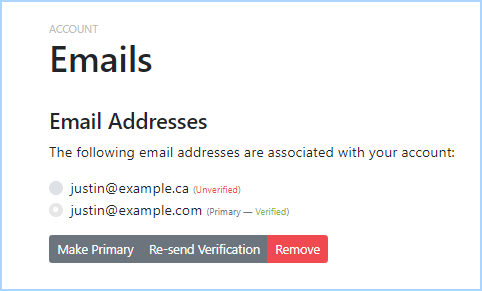 Change a primary email address
Simply select the one that you want to make primary and click the button. That's it that's all you're done!
Remove an email address associated with your account profile
To remove an old one, select the one that you don't need anymore and click the Remove button.
Re-send verification
It's always a good idea, for security purposes, to make sure that the email addresses associated with your profile are verified. If you see any that are unverified, just select that address, click the Re-send Verification button and click on the link arriving in your inbox.